21.04.2023


Un Souffle Nouveau

Sortie de Résidence pour un pestacle unique accésible à tous.

Première Mondiale @ Metz le 03 Mai 2023 - Max. 20h12 - La Chaouée // Lien Event ici

+ SUPPORT :-- Mono Against Capitalism -- c'est l'union italienne de lutte contre le capital, à grand coups de musique synthétique.
On y retrouve les amis Rico Gamondi (Uocho Toki, Ensync, ...) et Tonto,
qui sont tous deux déjà venus à Metz emplir nos oreilles d'étranges et souvent basses fréquences...

OVERVIEW:ECOUTE:LISTEN




Merci à Bstn Chmpns & M1T.


---

09.01.2021


Lèche-Vitrine

"ZOFUE SAMU DE MANI"
Artiste(s) en Nage(nt)
17h > 19h
38 Rue du Port
63000
Clermont-Ferrand

Occupation de vitrine désertée par les administrés d'une crise sanitaire contraignante.

Raphaël Maze : Projection 16mm / Contact Amplifié
Cecile Georges : Image vers le Son / Claquettes dissimulées
William Nurdin : Lumière & Errance / Matériel Oublié



Merci à Marion, Jean-Philippe, Claire et Didier de Z∆ 0UΠ'


---

26.06.2020


New Old Stock

Updated field recording page.
Start in 2012, finally recover here.

You can listen the last taken from 26th June 2020 at 2AM :


Original environmental sound matter recorded into the ex-Totem Sarah Kane Hall at Maxéville.
This place was before a loading dock wine, a concert hall, a local market place and
now Dao Davy Society converted this place into Face Mask (Covid 19) manufacture.


---

15.04.2020


Once upon these times .​.​.


Audio archive of all live-streamed act ( radio, e-concert.. .)
done during the containment of March-April-May 2020.

IN CONSTANT EVOLUTION.



With the help of :

RCN : rcn-radio.org
Apo33 : apo33.org
∏node : p-node.org
Asile 404 : asile404.org
Salon Bruit : lifeloop.org
Boiler Merde : Channel Utube
Bruitisme : bruitismes.bandcamp.com
SOTU (Sounds of the Underground) : sotufestival.com

Thanks to :

Thomas, Pauline Creusat, Seamus O'Donnell, Tim Viallefond,
Krybn, Tyfen, PGR, Julien Ottavi, Grégory Henrion...


---

27.10.2019

Back Home - Total Jet-Laggy - Lately, Me and P.Rose send huge thanks to all these humans who helped us to live this incredible tour :

Pavel Gvozd, Willi Moch, Urs Arnold, Lukas Fleischmann, Iva Ziraldo, Johanna Peresito, Matej Marijanovič Marijanov, Dragomir Krizic,
Социјален центар Дуња , Χίμαιρες Τζιαρ, Giorgos Mizi, Nikolay Mitev, Péter Márton, Matej Sajko Modrinjak

and

Ida Bö, Srđan Eftimovski, Zach Rene, Mira Vejvoda, Viktor Vicsek, Neven M. Agalma, Andrej Kopac, Alphønse Lazarev, Camille Emaille, Gregory Ångström,
Chi Him Chik, Yi Lu, Seraphim Veluvian, Peter Adamantiev, Душан Марић, Mark Maloschik, Rom Rzkch, Radim Labuda, Boban Docevski, Dimitrios Mazarakis, Csühes Pali, Milena Điki Janošević, Θάνος Μήτρας, Mladen, Sanja, Loren Purgar, Ronald Panza, Pierre-Alexis Deschamps, Μιχάλης Πουθενάς, Nick Bone, Alush Gashi, My Dacia Logan and so many more…

It Was : Magical Mystery Tour Sadly without Pavel V.

Some Infos :
6517 kms, 339 liters of gazol,
5,2 average liters, 14 countries,
121 Red bull bottles,
no animal killed,
no car crashed,
no urban furniture touched,
so many insects killed,
one plastic box exploded on Greece's highway
and so much love and fun with this international public.

OCTOBER TOUR EVENTS :

26 - Ljubljana (slo) : http://www.centralala.si/events/mroz-fest-2019/

23 - Budapest (hu) : https://www.facebook.com/events/810159959402070/

22 - Sofia / София (bu) : https://www.facebook.com/events/588075178600525/

19 - Athens / Αθήνα (gr) : https://www.facebook.com/events/919890008380544/

18 - Skopje / Скопје (mk) : https://www.facebook.com/events/1107508686120253/

12 - Velenje (slo) : https://www.facebook.com/events/487743015107513/

11 - Belgrade / Београд (srb) : https://www.facebook.com/events/2924713180874098/

07 - Ljubljana (slo) : https://www.facebook.com/events/2451130668349034/

04 - Zurich (ch) : https://www.facebook.com/events/1181955448655942/

03 - Basel (ch) : https://www.facebook.com/events/425010018214120/


---

27.07.2019

BRUITISME n°15

Summertime Bruitisme into le Plateau de Millevaches (in Occitan Replanat de Miuvachas) is an upland area in Limousin, a former administrative region of France. It covers approximately 3,500 km² and crosses the boundaries of three French departments: Corrèze, Creuse, and Haute-Vienne.
The majority of the area is located from 600 m to 1000 m altitude.



27 July - 12am to 28 July - 04am
@ La Croule - Les Sapins
19290 Peyrelevade, Limousin
France


---

19.04.2019 to 06.05.2019

NW"RIR1009" RUSSIAN TOUR

With
Jean-Bender from Lyon (fr),
and
Nakateem from Saint-Petersburg (ru).




RoHS Prod. - 2019
with the help of ИЛЬЯ Symphocat, Alexei Borisov, Paulie Shankwank,
Тала Никитина, Dmitry Morozov, Максим Семёнов...


---

04.01.2019

First New Release - WN "WHY" (CD)

Bruitisme de salon.
Rétrospective temporaire de 75 minutes de/par William Nurdin.
Immersion sonore, textures et enregistrements tout-terrain accumulés durant 10 années.

7 euros le CD, les frais de port en supplément,
les tarifs de gros sur demande,
les négociations au couteau sur demande.

tanzmuzik AtTT hotmailLLL dOOt Coom

En accord avec notre époque digitale,

TOUT est en écoute ici :


tzpWN (CD) / Tanzprocesz - 2019
---

02.11.2018

TOURING with...

POPRVÉ A ZA PENÍZE // (cz-prague) - ≈Musique.
+
O RECHE MODO // (cz-prague) - ≈Bruitiste.
+
NW"RIR1009" // (fr-nancy) - ≈ASMR.

≈≈≈≈≈≈≈≈≈≈≈≈≈≈≈≈≈≈≈≈≈≈≈≈≈≈≈≈≈≈≈≈≈≈≈≈≈≈≈

VENDREDI 02 Novembre : METZ @ LA FACE CACHÉE
Show Case de 30 Minutes
FB Event

SAMEDI 03 Novembre : PARIS @ NON-JAZZ - Le Petit Café
+ Anti Tolvi + Le Bruit Vient De La Cuisine
FB Event

DIMANCHE 04 Novembre : TOURS @ Bar des Colette's
+ Zamzam featuring Violette
FB Event

LUNDI 05 Novembre : St-Aignan-Sur-Cher @ APDM
w/ iveta pilna / romano krzych / heloise
FB Event

MARDI 06 Novembre : NANTES @ Blockhaus DY10
FB Event

MERCREDI 07 Novembre : CAEN @ 1er étage du 65 rue des Rosiers

JEUDI 08 Novembre : LILLE @ CCL
+ Chaman Chômeur + Begayer
FB Event

VENDREDI 09 Novembre : LOMME @ GARE D'EAU
Die Farfisa Destruktion : w/ David Frimas

SAMEDI 10 Novembre : OFF

DIMANCHE 11 Novembre : BRUSSEL @ HS63
FB Event


---

01.08.2018

DRAWD IN THE DARK

Done by Тала Никитина during RIR1009 session at Клуб in Saint Petersburg, Russia.
More than being architect, Тала is also a sound artist. You can listen some tracks on her Bandcamp


---

27.05.2018

INRATABLE


---

27.05.2018

NW "RIR1009" on TOUR
27th May to 20th June.

Sharing the trip with friends from :

HORST DU NOCH (fr-rennes)
Solo guitare-machines,
Post Grunge for asthmatic surfer : SOUND

and

URGE (fr-caen)
Massiv Free Noise Improv',
drums sax & guitar : VIDEO / SOUND



° = NOT w/ NW"RIR1009"


---

27.03.18

Japan Tour Ready

27th April to 14th May,
with Kevin Angboly and Anais Bonville.





Visual By Val L'Enclume
more infos into "SHOWS" left section.


---

16.12.17

12 Hours of Free / Noise / Experimental : Music
Bruitisme at Le VOID
16 december 5pm to 17 december 5am | Entrance 7€ + 2€ (adhesion)
address : 58 rue du Mirail - 33000 - Bordeaux




Systol / Anna Gaïotti / Droit Divin / Arnaud Paquotte / Mimi Kawouin / Tiny Tramp / Stereotope / dave phillips / Mathias Pontevia / Grinder Bueno / Astreinte / Tzii / Jean Bender / Psykastemy / Cabine Volcan / France sauvage / Julien Millot / Supérieur! / RG Rough / Mozarfucker / NuR / Quenotte / Martial Becheau / Julia Hanadi Al Abed / Moonchild / Maxime Hänsenberger / Purpura / Agression Sonore / Tracy's Dick / Tositti / Fourth / B.E.D / Processi0ns / D'incise / Musikgesellschaft / É / Therrorines / WN / Å.

Artwork by Highway to Paradise


---

30.09.17

12 Hours of Free / Noise / Experimental : Music
Bruitisme at Les Ateliers De Bitche
30 september 3pm to 01 october 3am | Entrance 5€
address : 03 rue de bitche - 44000 - NANTES



india ink work by Vassily Dix


---

30-31.08.17 & 01-02.09.17

# Descente d'orga 5 - RATe YoUr PaiN
Mini Festival Des Musiques Exutoires
w/ Dave Phillips & More

30 Aout. w/ Clougnioule @ Ferme du Gentioux (fr-19)
31 Aout. w/ 812 Mhz @ HS63 (be-bxl)
01 Sept. w/ Gredin @ SLPa31 (fr-57)
02 Sept. w/ CUP @ La Drêche (fr-68)



A. HighWay To Paradise.


---

28-29-30.04.16

inratable...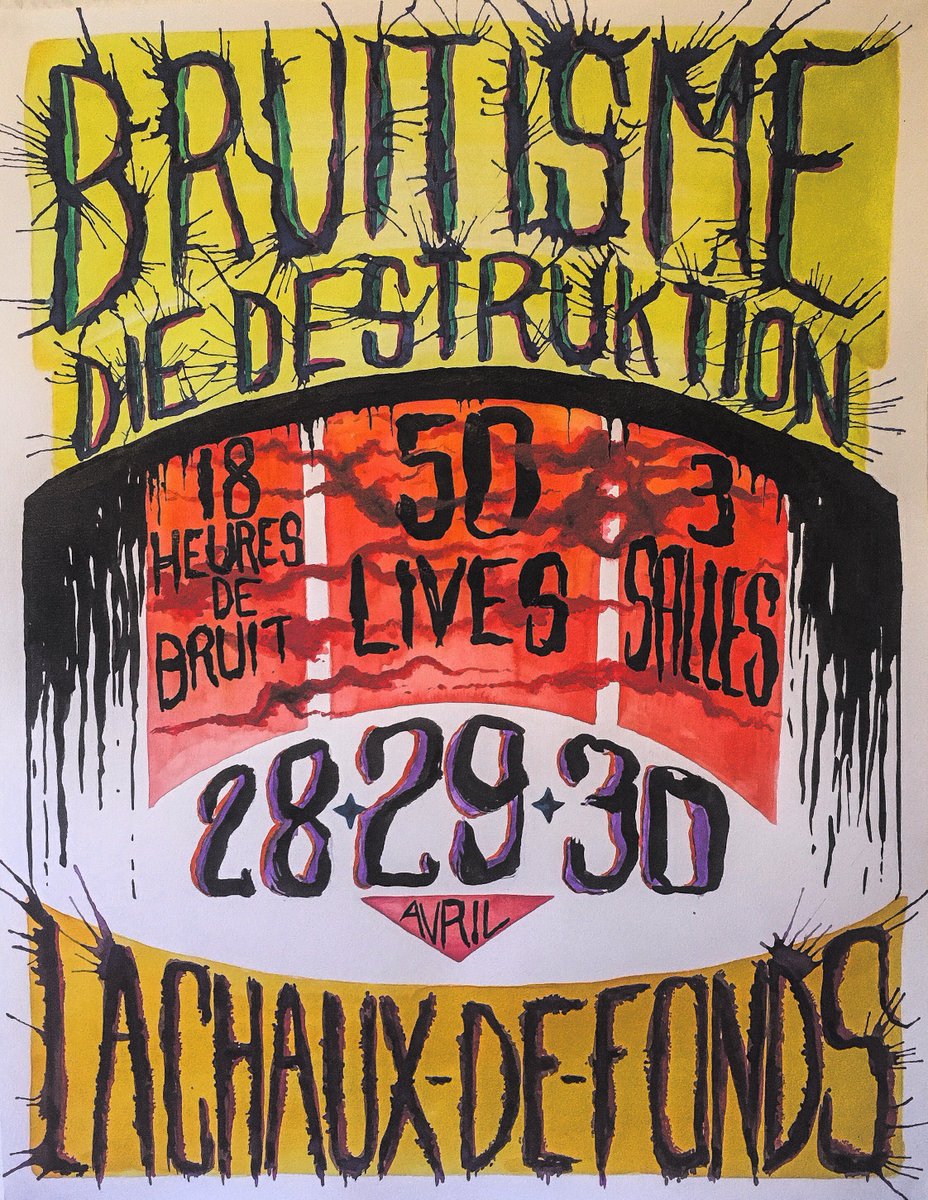 ---

22.04.17

Free online release, for a serie of live tests for a new solo project.
This performance is in a constant evolution and it will follow all trials, stay tuned.



For this new project, i work with a headset/contact-mic
and i develop handling of feedbacks, psychoacoustic and buccal basics.
These microphones are plugged into effect pedals (distortion, octaver, gate).
All this gears are connected into a wirelles system,
that i'm wearing with a belt to be free to move like i need.

You can watch the second try via this link.
Thanks to Mona from "Le Barlok", in Brussel, to help for the first delivery.

Released April 15, 2017 to December 31, 2017.
---

06-28.02.17

Residency for "Meanwhile" with Romain Reot at Le Centre Culturelle André Malraux in Vandoeuvre-les-Nancy.
Permanance of Recording in order to recolt new ideas for creating and composing 6 tracks for a CD soon to be released on RoHS Prod. the 06 May 2017 at Poncillon Garden (fr-57).


---

01.02.17




"take me drunk im home"
Une face d'une cassette,
des morceaux en duo,
par correspondance,
en couche par couche,
avec Les Enfants De La Nuits Occidentale,
pour "La subtilité des sports mécaniques".



Mastering : Yann ( Studio NEURA - Caen )
Duplicate at Saint Nab', Edition of 50 copies


---

28.12.16

New Release with WN named "Unsigned Experimental Noise Comp#3".

For Kálmán Pongrácz (aka rovar17) label's name Unsigned.

A composition called "Simple Actions", for a duration of two minutes and eight secondes duration.
Constructed build mainly with raw field recordings of my Dacia Logan first technical control,
layered with some sounds of loops-walk & ground cleaning that i did in Saint-Nabord.
The first idea was a quick immersion into a mechanical transfer,
mounting an exoskeleton and get ready to go further.



Recorded in Anderlecht Foire (Brussel), Essey-lès-Nancy & Les Vosges, edited at my Caravan.


---

19.11.16

inevitable...


---

15.11.16

On this record available soon, the instrument is a manual juicer (also known as juicing machine or juice extractor) to extract juice from fruits, herbs, leafy greens and other types of vegetables in a process called juicing. It crushes, grinds, and/or squeezes the juice out of the pulp.
We can hear raw layered recordings of each vegetables crushed into the juicer. Cheers.

Squeezed, Recorded, Mastered by William Nurdin
on September 2016.



Live Amplified Juicing in duo with the saxophonist Dario Fariello
at le Casse Tête in Marseille (fr-13) during the Multiversal Festival.


---

01.06.16



MOVING : the process of leaving one dwelling and settling in another...

11 June 2016 - Barlok - BE - Brussel
w/NW - BRUITISME : 20 Hours of Noise & Experimental Deliverance.




14 June 2016 - Waggon - DE - Offenbach
w/WN - Mini-Tour with Holzkopf (ca) / Lauren Rodz

15 June 2016 - Le Diamant d'or - FR - Strasbourg
w/NW - Mini-Tour with Holzkopf (ca) / Yogi Data / Lauren Rodz

16 June 2016 - La Face Cachée - FR - Metz
w/Holzkopf / Yogi Data / Lauren Rodz - together but not simultaneously

17 June 2016 - Hall Sarah Kane - FR - Nancy
w/NW - Mini-Tour with Holzkopf (ca) / Yogi Data / Lauren Rodz

18 June 2016 - 9pm CCL - FR - Lille
w/WN - Mini-Tour with Holzkopf (ca) / Yogi Data / Lauren Rodz

19 June 2016 - 3am ThirdTypeTapes's - Barlok - BE - Brussel
w/NW - Mini-Tour with Holzkopf (ca) / Yogi Data / Lauren Rodz

20 June 2016 - Nuke - FR - Amiens
w/ CUP #52 - + Lauren Rodz + Solar Skeletons

25 June 2016 - Le Tapette Fest IX - FR - Campénéac
w/ Gredin - Pic-Nic Bruitiste with Gregory Henrion

26 June 2016 - Cavalcade - FR - Villerupt
w/ La Face Sonore - Tightrope walker and Contact mic.
---

12.03.16



DIE DESTRUKTION : Destruction in Art Symposium

An event created to bring to the audience the vision of destruction act. Multiple projects are front of the possibility to destroy, un-construct, exterminate, eradicate, smashed, shattered, wracked something in an acoustic way or amplified.


Credit videos : Emilie Salquèbre

"LA TRANSITION PAR LA DESTRUCTION. ECHOS DE L'ART AUTODESTRUCTIF DANS LE CHAMP CONTEMPORAIN." Matthieu Saladin

"Formulé dès la fin des années 1950 par Gustav Metzger à travers une série de manifestes, l'art autodestructif est initialement pensé comme une forme d'art public adaptée aux sociétés industrielles, où les œuvres se désintègrent dans le processus même de leur création. Résolument anticapitaliste et antinucléaire, cette pratique est défendue par l'artiste, au moment où il la thématise, comme étant la seule susceptible de convenir au monde contemporain, du moins avec son corollaire direct, l'art autocréatif. Mais ses préoccupations semblent dépasser son seul contexte sociohistorique immédiat et être tout aussi valables aujourd'hui. Si la logique des destructions propres aux modes de vie d'une société perdure, l'art autodestructif s'en fera à chaque fois la critique actualisée : « Look at the destruction taking place around you. » Cette intervention souhaite revenir sur la notion d'art autodestructif élaborée par Metzger, afin de saisir ses enjeux et les transformations qu'il suppose dans nos rapports à l'art et à la société. Il s'agira également de considérer ses échos, plus ou moins directs, dans les pratiques contemporaines qui peuvent s'en réclamer ou s'en inspirer, notamment dans le champ des arts sonores et des musiques expérimentales. Les glissements esthétiques et idéologiques repérables dans la manière même d'envisager la destruction, entre les premiers projets et textes de Metzger et les pratiques actuelles, seront alors l'occasion d'interroger le type de transition sociétale que peut traduire ou appeler la destruction. "




---

26.02.16


NAKATEEM & WILLIAM NURDIN "Split Tape Series"
Label : Underground Pollution Records (FR) / Format : Cassette

Exploring raw improvisation, following free-existing composing. Pluging during the composition. Emptying batteries and finding the boundaries. The beauty of incoherence from order to chaos.



Performed and recorded at St-Nab Studio in Les Vosges, edited at mycarlo. Edition of 30.
Thanks to Vivian Grezzini.


---

14.02.16



On tour for one week with Dave Phillips, here's the touring :



15 FEB. - dp "live action" + R.Reot, V.Sestito, T.Strauss, K.Angboly, W.Nurdin @ CCAM (fr-54)
16 FEB. - dp "field recordings" / wn "1.875#3.75" / d.c.p @ La MJC Desforges - Nancy (fr-54)
17 FEB. - dp "field recordings" / wn "Uvdin D'Chol" / d.c.p @ CRAC Le 19 - Montbéliard (fr-25)
18 FEB. - dp "field recordings" / wn "Kɑntækt" / d.c.p @ Atelier de L'étoile - Besançon (fr-25)
19 FEB. - dp + d.c.p + wn @ Centre Psychotherapique de l'Ain - Bourg-en-Bresse (fr-01)
19 FEB. - dp "live action" / Clougnioule / d.c.p @ L'Oblik - Villeurbanne (fr-69)
20 FEB. - dp "field recordings" / nw "CUP#51" / Jean Bender @ la Gueule Noire - Saint-Etienne (fr-42)
21 FEB. - dp "field recordings" / Clougnioule / Point Invisible @ Le Raymond Bar - Clermont-Ferrand (fr-63)



Podcast of the radio show "A Propos De Minos" of February 15, 2016 :
[download]




---

21.01.15




New released soon
with Junko Hiroshige
.
You can listen a cut-up version down there ...